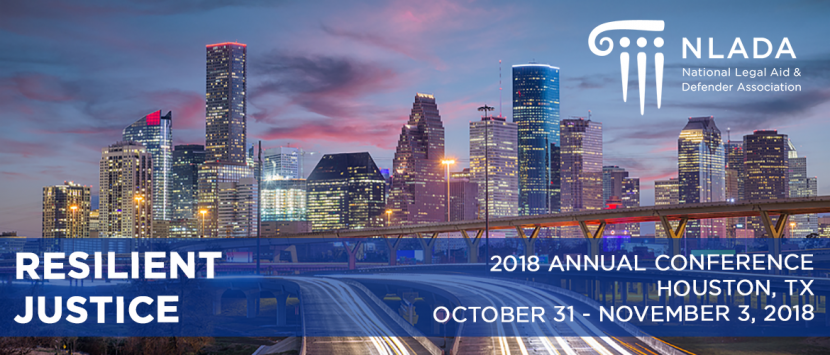 Wednesday, October 31, 2018 9:00 am

to

Saturday, November 03, 2018 12:00 pm
Please join us in Houston, Texas from October 31 - November 3, 2018 for NLADA's Annual Conference. 
CALL FOR WORKSHOP PROPOSALS
We are now accepting your proposals for workshops at this year's Annual Conference. Click here to learn how to submit your proposal. Proposals are due by June 1, 2018.
HOTEL INFORMATION
Westin Galleria
5060 W Alabama Street
Houston, TX 77056
*Hotel registration link coming soon.
CONTINUING LEGAL EDUCATION (CLE) CREDITS
NLADA will apply for CLE accreditation for all qualifying conference sessions in each state with mandatory CLE. Complete information will be available in the registration packet received at check-in. Please familiarize yourself with your state's CLE requirements.
ADVERTISEMENT, EXHIBIT AND SPONSORSHIP OPPORTUNITIES
Increase your brand visibility and demonstrate your commitment to safeguarding equal justice by advertising, sponsoring or becoming an exhibitor at the 2018 NLADA Annual Conference. Contact us at [email protected].
CONFERENCE INFORMATION
Contact us at [email protected] or 202-452-0620 if you have additional questions.