Training and Techncial Assistance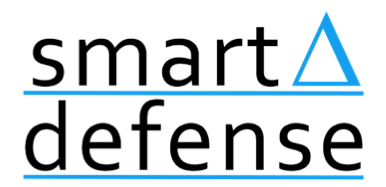 Administered by the Bureau of Justice Assistance of the U.S. Department of Justice, Office of Justice Programs, the Smart Defense Initiative pairs public defense practitioners with researchers, technologists, and national experts to develop, implement, and test data-driven stragies for creating fairer and more effective justice systems. For more information, visit www.smartdefenseinitiative.org.  
As the national training and technical assistance provider for the Smart Defense Initiative, the National Legal Aid & Defender Association partners with the National Criminal Justice Association to provide strategic planning and problem solving support to the six Smart Defense sites:
Alameda County, California
Contra Costa County, California
Kentucky
New York City, New York
Texas
Wisconsin
NLADA also provides information and technical assistance to defenders, researchers, and other stakeholders upon request. Contact [email protected] to submit a question about designing a research project, securing funding, or any other aspect of improving your public defense system.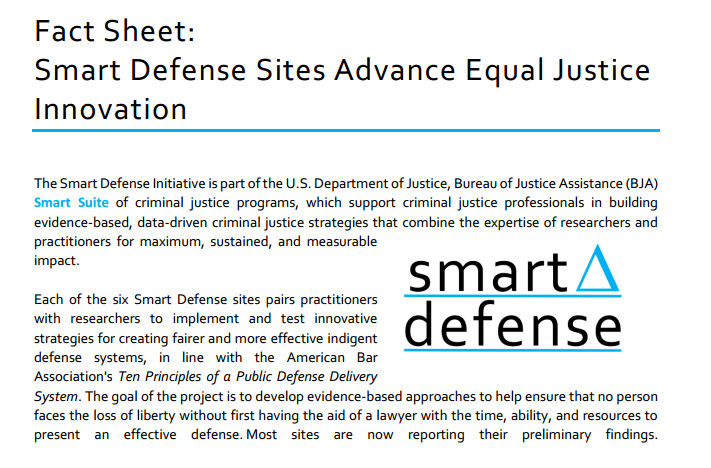 Fact Sheet: Smart Defense Sites Advance Equal Justice Innovation
An overview of the projects and preliminary findings of the six Smart Defense sites.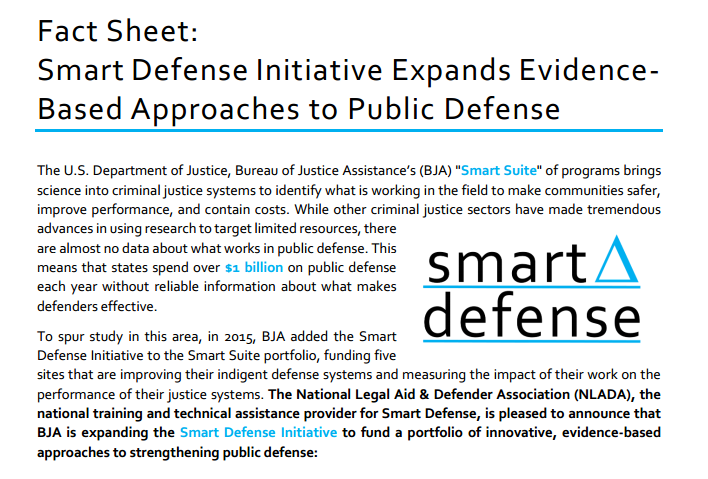 Fact Sheet: Smart Defense Initiative Expands Evidence-Based Approaches to Public Defense
New opportunities for training and technical assistance for data-driven public defense projects.