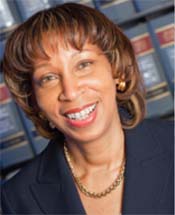 As President & CEO of the National Legal Aid & Defender Association (NLADA), I am honored to lead an organization charged with advancing one principle: that the quality of justice you receive should not depend on the amount of money you have. This is indispensible to the American promise of equal justice under law, but we fail in this aspiration every time a person stands before a judge without adequate defense counsel, or when an overburdened legal aid program is forced to turn away people in desperate need of assistance.
At NLADA, our national network of equal justice advocates gives us extraordinary scope for impact as we strive to enhance the quality and availability of the vital legal services that protect procedural justice and fair outcomes for low-income people. With almost 50 million Americans in poverty, and the second-highest incarceration rate in the world (roughly 700 per 100,000), it is clear to me that the need has never been greater.
As the only national organization whose resources are dedicated exclusively-- and have been for more than a century-- to advancing both civil and criminal justice for low income people, we have a unique vantage point from which to guide our members through a rapidly evolving justice landscape. Our country is making some progress -- more states are taking action to fulfill their constitutional obligation to provide counsel to individuals accused of committing crimes and  federal funding for legal aid has been growing steadily – if modestly.  Reducing the prison population is now a priority on both sides of the political aisle, and policymakers are beginning to recognize the necessity of civil legal aid and public defense; particularly on issues that serve only to criminalize poverty like court fines and fees.
While political circumstances are shifting slowly, the practice of legal services delivery is changing exponentially. Online providers of legal aid are emerging to meet demand in non-traditional ways, and sophisticated analytics are transforming public defense. At NLADA we are embracing these changes -- providing leadership in new approaches to better meet your needs, and most importantly to all of us, the needs of low-income clients and communities.
Placing a new emphasis on innovation and technology, we are honing our member services within a conceptual framework that recognizes that innovation takes place on the ground, and that direct technical assistance spans a continuum that includes information, tools, and training as well as individualized support from NLADA experts. At the same time, we are expanding our capacity for providing timely analysis of developments both in Washington and in the field.
With eyes on both today and tomorrow, nlada.org is central to this effort. Home to all of NLADA's resources, which range from established best practice guidance to cutting-edge toolkits, it is a consolidated point of entry for member services and events. We are embracing new avenues for peer collaboration, expanding our online training calendar, and exploring strategic partnerships that will tap the capacity of allied organizations.
We are in a pivotal moment.  The widespread distribution of cellphones and other devices are shining a new spotlight on lingering remnants of institutional injustice and causing policymakers, the media and the public to focus on justice issues with a rare intensity.  But moments like this pass quickly. 
More than 40 years ago, Justice Lewis Powell reminded us that: "Equal justice under law is not merely a caption on the facade of the Supreme Court building, it is perhaps the most inspiring ideal of our society. It is one of the ends for which our entire legal system exists...it is fundamental that justice should be the same, in substance and availability, without regard to economic status." The time to act is now to make Justice Powell's words come true.  Equal justice should not be just the "most inspiring ideal of our society" – it should be the most inspiring reality of our society. NLADA will continue to fulfill this mandate until access to justice, and the words engraved on the Supreme Court building, are made real.
Jo-Ann Wallace, Esq.
NLADA President and CEO