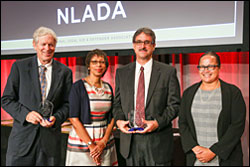 From left: Richard Rothschild, Jo-Ann Wallace of NLADA, Kenneth Rose, and Jennifer Blunt of Kutak Rock LLP 
NLADA, in partnership with the Robert J. Kutak Foundation, has opened the nominations for the 2017 Kutak-Dodds Prizes. The deadline to submit a nomination is Thursday, April 6, 2017. 
Since 1989, the prizes have been awarded to attorneys who have significantly contributed to the human dignity and quality of life of individuals unable to afford legal representation. This annual award honors two longstanding advocates for equal justice, one from the civil legal aid community and another from the public defense community. Each prize carries a cash award of $10,000.
In 2016, Jane Perkins, Legal Director at the National Health Law Program, was the civil legal aid recipient, and Lisa Greenman, Attorney for the Federal Death Penalty Resource Counsel Project, was the public defense recipient. Both winners have made extraordinary contributions to access to justice and were honored at the NLADA Exemplar Award Dinner last June in Washington, D.C.
To view the award criteria and nominations process, please click here.
About the Award
The Kutak-Dodds Prizes are jointly sponsored by the Robert J. Kutak Foundation and NLADA and bestowed in memory of Robert J. Kutak and Kenneth R. Dodds. Both men were former partners in the Omaha, Nebraska, office of Kutak Rock LLP and advocates of public service, legal education, and high ethical standards throughout their lives. In addition to legal services for the poor, the Kutak Foundation supports education in professional ethics, minority scholarships, and a variety of other public interest projects. The foundation is maintained by Mr. Kutak's former friends and associates.
For more information on the Kutak-Dodds Prizes, please contact Chelsea Gibson, Major Gifts Officer, at 202-452-0620, ext. 259 or via email at [email protected].