On September 29, 2016, more than 350 individuals gathered at the NLADA Exemplar Award Dinner in Washington, D.C. to pay tribute to the achievements of four outstanding advocates for equal justice in America. The event was made possible by the generous support of our sponsors, and brought together every segment of the legal community, from the private and corporate bar to legal aid lawyers, public defenders, and other public interest advocates.
Funds raised will directly support NLADA's ability to serve, train and advocate on behalf of thousands of civil legal aid and indigent defense attorneys, as well as client communities, who work to protect some of the most vulnerable populations in America -- low income families, seniors, immigrants, persons with disabilities and veterans.
The celebration opened with the presentation of the two Kutak-Dodds Prizes, honoring career-long dedication to advancing justice for low-income people through civil legal aid and public defense. In the civil category, Jane Perkins, Legal Director at the National Health Law Program, received the prize in recognition of her leadership in defending access to healthcare. The defender prize was presented to Lisa Greenman, whose strategic impact has transformed the landscape of capital defense for individuals with intellectual/developmental disabilities.
| | | |
| --- | --- | --- |
|   |   | |
|   |   | Dan Schulman and Louise Pentland |
The evening continued with the presentation of the Exemplar Award to Louise Pentland, whose promotion to Executive Vice President, Chief Business Affairs & Legal Officer at PayPal, Inc. was announced on stage at the event by Dan Schulman, Chief Executive Officer of the company, who presented her award. Schulman described Pentland as "incredibly smart, compassionate, and full of integrity for the things she believes in" after she established a pro bono program at PayPal, building on an extraordinary personal commitment to pro bono. Pentland accepted the Exemplar Award with a call to action, urging the entire legal community to "step up, help, in whatever way you feel passionate about" and reminding the audience: "we have the skills to make a difference."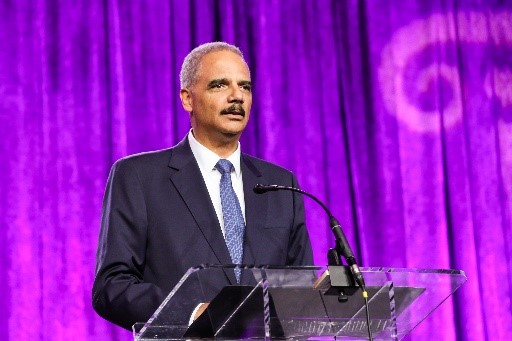 Attorney General Eric Holder
The final presentation of the evening was the Justice John Paul Stevens Lifetime Achievement Award, which was bestowed on former U.S. Attorney General Eric H. Holder Jr., whose career has become synonymous with civil rights and equal justice. He was introduced by Deputy Attorney General of the United States Sally Yates, who explained that his "leadership, and courage, and resolve, have changed our justice system." After recieving the award, he praised the work of equal justice advocates and shared his perspective on the justice system, calling for reform of the bond system, adequate resourcing of legal services, the lifting of restrictions on legal aid lawyers, and arguing for a civil analogue to Gideon v Wainwright. He concluded with the same rallying call with which he would end meetings at the DOJ: "go out," he said, "and do justice."