Graduating College is a big transition and you're probably wondering what to do next. If you're passionate about social change and want to serve your community; AmeriCorps is a wonderful opportunity. It is a great way to make positive change in the world starting with our communities. AmeriCorps can be a foot in the door leading to a career that you are passionate about. AmeriCorps VISTA members share their experience with graduating and wanting to make an impact out of college which led them to AmeriCorps service.
Andrea: My AmeriCorps adventure began around April of my senior year of college. It was then that the 3-month journey to finishing my AmeriCorps application was complete. Even throughout college, I imagined my future self-serving my community in this way for a long time. I applied immediately.  My interview was a few days later. Every day I held my breath and prayed to be accepted into the program. I am excited to serve with the Public Defender Office in Montgomery County, Pennsylvania because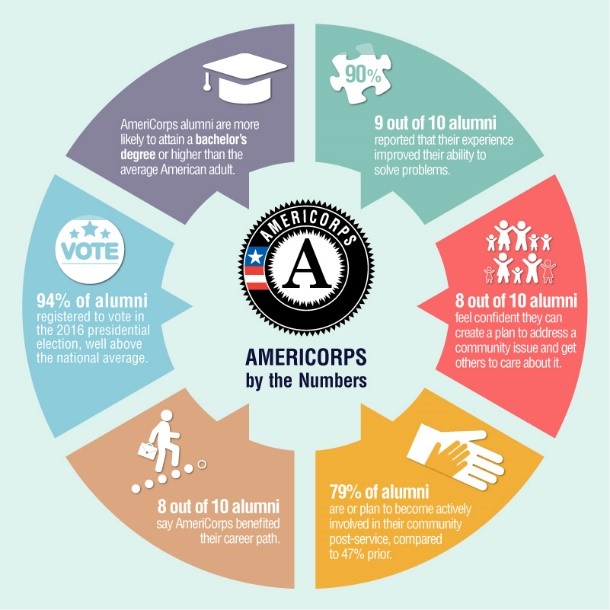 that first week I got to see what justice really looks like in the county and the barriers incarcerated and soon-to-be previously incarcerated individuals face upon beginning the process of re-entering back into the community.             
Kameryn: I was drawn to AmeriCorps service because I wanted to have a career with purpose and knew I wanted to relocate to Washington, D.C. I spent time applying for "regular" jobs right out of college, but I wasn't satisfied with the idea of taking on and getting stuck in a job I wasn't really interested in. My older sister was serving in AmeriCorps at the time, and told me took look there for opportunities. It was an opportunity to learn about everything I was interested in, complete a year of service, gain professional experience, and finally move to Washington, D.C.
*note from the editor - Now Kameryn is joining the Peace Corps to teach youth in the Caribbean!
Shannon: After college I was looking for a way to serve the community while doing something I was passionate about. I learned about AmeriCorps through the career fair at my school, and sought out a program where I could try to make a difference in a facet of the criminal justice system.