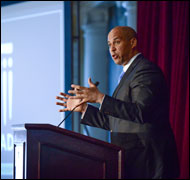 Senator Cory Booker of New Jersey received the Justice Through Government Service Award on June 24 at the NLADA Leadership Appreciation Luncheon. The award recognizes his key role in reforming the country's criminal justice system and his promotion of public policies that benefit underserved populations throughout the nation.
A short introductory video helped define the landscape that Sen. Booker is reshaping. In it, he outlined the "jagged disparities" in the treatment of blacks and whites, and how those differences — in sentencing for a single teenage offense, for example — can damage a life for decades in crucial aspects of life such as education, housing, and employment.
Sen. Booker's powerful, funny, and thoughtful acceptance remarks emphasized the need for a more compassionate and intelligent system for creating safe communities and greater opportunities for all. He focused on "people who are on the margins," such as the low-income residents in Newark he advocated for while serving as a city council member and then as mayor. During much of this time he lived in a 16-story public housing project where residents continually battled vermin, failing heat, and a broken elevator. He told the painful story of becoming a mentor for a group of kids who hung out in the lobby of his building, only to learn, just after he became mayor, that one of them had been murdered.
In his concluding comments, Sen. Booker highlighted his belief that change is possible through excerpts from "Let America Be America Again" by the poet Langston Hughes. 
"O, let America be America again—
The land that never has been yet—
And yet must be—the land where every man is free.
The land that's mine—the poor man's, Indian's, Negro's, ME—
Who made America,
Whose sweat and blood, whose faith and pain,
Whose hand at the foundry, whose plow in the rain,
Must bring back our mighty dream again…
Oh yes,
I say it plain.
America never was America to me, but I swear this oath—
America will be."  
Also inspiring the 200 attendees of the luncheon was Thomas Harvey, co-founder and executive director of ArchCity Defenders, a nonprofit civil rights law firm providing holistic legal advocacy to the poor and homeless in greater St. Louis. Harvey opened his comments by noting, "One year ago, you'd probably never heard of Ferguson, Mike Brown or the Black Lives Matter Movement." He pointed out what people across the country have learned over the past year:  "contact with the police and courts disproportionately and negatively impact the poor and communities of color" through the widespread practices such as stopping, charging, fining, arresting, and jailing those groups for minor offenses such as traffic violations.
Harvey continued, "But if this last year has taught us anything, it's that Ferguson is not just a place in St. Louis County, Missouri.  Ferguson is everywhere." He described the role racial discrimination has played in the American justice system through the country's history, and highlighted some of the remarkable accomplishments of ArchCity Defenders and its colleagues over the past year, such as the elimination of cash bail in the metropolitan St. Louis community of Velda City. He concluded by challenging the audience: "Find a way to do your part. Because Black Lives Matter. Ferguson matters.  Racial Justice matters."
The Justice Through Government Service Award recognizes the principle that America was founded on the promise of justice but fulfilling that promise is not the responsibility of the legal profession alone. Equal access to justice requires work across all disciplines and sectors of society. Tony West, former Associate Attorney General at the Department of Justice, and Tonya Robinson, former Special Assistant to the President for Justice and Regulatory Policy at the White House Domestic Policy Council, received the inaugural award in 2014 for their work as co-chairs of the Legal Aid Interagency Roundtable (LAIR).
See the luncheon program book.