NLADA Announces Winners of the 2015 Kutak-Dodds Prizes
Richard A. Rothschild and Kenneth J. Rose to receive awards in June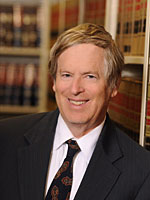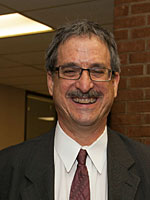 The National Legal Aid & Defender Association (NLADA) is very pleased to announce Richard A. Rothschild, director of litigation at Western Center on Law & Poverty, as the civil legal aid community recipient and Kenneth J. Rose, senior staff attorney at The Center for Death Penalty Litigation, as the public defense community recipient of the 2015 Kutak-Dodds Prizes. Both winners have made extraordinary contributions to access to justice and will be honored at the NLADA Exemplar Award Dinner on Tuesday, June 23, 2015, at the Omni Shoreham Hotel in Washington, D.C.
"I am delighted that Richard Rothschild and Kenneth Rose have been selected as the 2015 Kutak-Dodds Prize winners," said Jo-Ann Wallace, NLADA President and CEO. "Through the years, innumerable lives have been positively impacted by Richard and Kenneth's representation and advocacy, which have reinforced the principle of justice for all under the law. They are truly inspirational individuals, and it is a privilege to give them the recognition and honor they so well deserve."
Richard Rothschild is recognized for nearly 30 years of extraordinary public service in California serving those who cannot afford to pay for legal representation. He is recognized for his tremendous impact as a premier appellate lawyer on the over eight million low-income children, people with disabilities, immigrants and other vulnerable groups living in the state. In addition to winning high impact litigation defending or expanding the rights of low-income families and individuals, Rothschild has supported and shared his expertise with countless legal service organizations and their attorneys.
Kenneth Rose is honored for his life-time commitment to public defense work for nearly 35 years in Georgia, Mississippi, and North Carolina. Rose has spent his entire career representing low-income clients on death row, many of whom are mentally ill and intellectually disabled. He has played a key role in advocacy efforts to limit the death penalty, helping to enact one North Carolina statute barring the death penalty for persons with intellectual disabilities and another that allowed death row prisoners to present statistical disparities and other evidence to show that race played an impermissible role in their cases.
Since 1989, the Kutak-Dodds Prizes have been awarded to attorneys that have significantly contributed to the human dignity and quality of life of individuals unable to afford legal representation. The annual prize acknowledges two advocates for equal justice, one from the civil legal aid community and another from the public defense community. The prizes are jointly sponsored by The Robert J. Kutak Foundation and NLADA in memory of Robert J. Kutak and Kenneth R. Dodds. Each Prize carries a cash award of $10,000.
On behalf of The Robert J. Kutak Foundation, Jennifer Blunt, Of Counsel at Kutak Rock LLP, stated, "We extend our warm congratulations to Richard Rothschild and Kenneth Rose and are honored to celebrate their outstanding achievements. We are deeply moved by their broad impact on the equal justice community and vast contributions to the clients they serve."
The Kutak-Dodds Prizes are jointly sponsored by the Robert J. Kutak Foundation and NLADA and bestowed in memory of Robert J. Kutak and Kenneth R. Dodds. Both men were former partners in the Omaha, Nebraska Office of Kutak Rock LLP, and practitioners and advocates of public service, legal education, and high ethical standards throughout their lives. In addition to legal services for the poor, the Kutak Foundation supports education in professional ethics, minority scholarships, and a variety of other public interest projects. The Foundation is maintained by Mr. Kutak's former friends and associates.
The National Legal Aid & Defender Association, founded in 1911, is America's oldest and largest nonprofit association devoted to excellence in the delivery of legal services to those who cannot afford counsel. NLADA has pioneered access to justice at the national, state and local levels through the creation of our public defender systems and other important institutions from The Sentencing Project to the Legal Services Corporation. A leader in the development of national standards for legal aid and indigent defense, NLADA also provides advocacy, training and technical assistance for equal justice advocates across the country.
For more information on the Exemplar Award Dinner, contact Helen Katz, Chief Development Officer, at 202-452-0620 ext. 223 or [email protected].