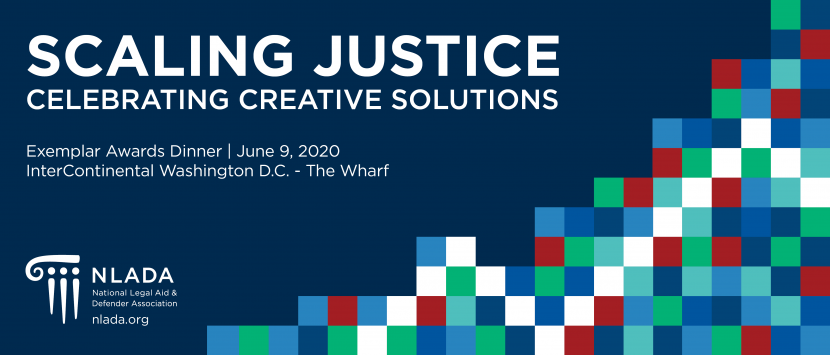 Tuesday, June 09, 2020

6:00 pm

to

9:30 pm
Each year at our Exemplar Award Dinner, we pay tribute to the amazing NLADA equal justice community, sharing their stories and those of the people they serve. We honor members of the corporate and private bar and leaders in civil legal aid, public defense, and policy – those people and organizations who reinforce why our work and advocacy are so vital to those who cannot otherwise afford counsel. 
2020 Exemplar Award
Marcus V. Brown  is executive vice president and general counsel at Entergy Corporation. At Entergy, Marcus sees having a positive social impact and promoting sustainability as a core business strategy, leveraging increased commitment and resources in pursuit of equal justice.  As general counsel, he spearheaded an initiative designed to engage 100% of his team participating in pro bono work each year. Under his guidance, Entergy's commitment to pro bono excellence has included hiring a fulltime pro bono counsel, as well as engaging in extensive and intensive partnerships with local clinics, providing direct legal services to low-income individuals, and representing community serving non-profit organizations. Learn more about Marcus here.
Click to learn more about past Exemplar Honorees and Kutak-Dodds Prize Recipients. 
Social Justice Art Auction
By popular demand, NLADA will be brining back a highlight of 2019's event: a silent auction of social justice-themed art during the cocktail reception of the Exemplar Award Dinner. Artwork will depict justice issues ranging from incarceration to political protest. All pieces are generously donated by artists from across the country, and funds raised will directly support NLADA's mission of expanding access to counsel and safeguarding justice for all. Check out a preview of some of this year's extraordinary pieces here prior to puplication of a full catalogue. 
Join our generous supporters

and become a sponsor! Learn about sponsorship opportunities

here

 and download a pledge form

here
.
We invite you to join us on June 9 as we celebrate equal justice leaders who are employing creative solutions to eliminate barriers to justice for all. 
Beacon of Justice Award
The ongoing humanitarian crisis along the U.S. southern border impacts hundreds of thousands of migrant children, women, and men seeking asylum or hoping to immigrate to the United States. Ever changing federal policies and practices have exacerbated the already challenging situations for those desperately searching for safety and the American promise of the "Blessings of Liberty." But they are not alone. The legal community has responded with their strong commitment to uphold the rule of law and safeguard the legal rights of these individuals.
The 2020 Beacon of Justice Award will recognize and honor law firms with pro bono programs serving vulnerable people fleeing to the U.S. border. These programs are both diverse and many, and they range from helping pro se individuals better represent themselves to providing direct legal representation for the individuals and families in family separation, detention, and immigration proceedings. Learn more about eligibility, application processes, and additional details here. 
Applications are due by March 31st. Access your application form here. 
Previous Beacon of Justice themes include: 
Expanding opportunities for the underserved in areas such as education, health care, housing, and legal services
Have innovative Public-Private Partnerships that Protect Equal Justice for All through Appellate Litigation
Made a Significant Impact in the Area of Immigration
Represented Disadvantaged Families in Foreclosure Proceedings
Representation to People on Death Row
Representation to Detainees at Guantanamo Bay
Learn more about past winners here. 
Kutak-Dodds Prizes
We are now accepting nominations for the 2020 Kutak-Dodds Prizes. NLADA and the Robert J. Kutak Foundation bestow the Kutak-Dodds Prizes annually to honor the accomplishments of civil legal aid attorneys, public defenders, assigned counsel, or public interest lawyers who, through the practice of law, are significantly contributing to the enhancement of human dignity and quality of life of those individuals who are unable to afford legal representation.
For information on awards criteria and other details please click here. Nominations may be submitted via this link and are due by April 3rd. For additional information, please contact Chelsey Gibson, Major Gifts Officer, at [email protected] or 202-452-0620, ext. 259.
2019 Exemplar Award Dinner Highlight Slideshow
Relive this amazing night of fun, appreciation and safeguarding justice! 
Please contact Chelsey Gibson, Major Gifts Officer at [email protected] or 202-452-0620 Ext 259 for more information.