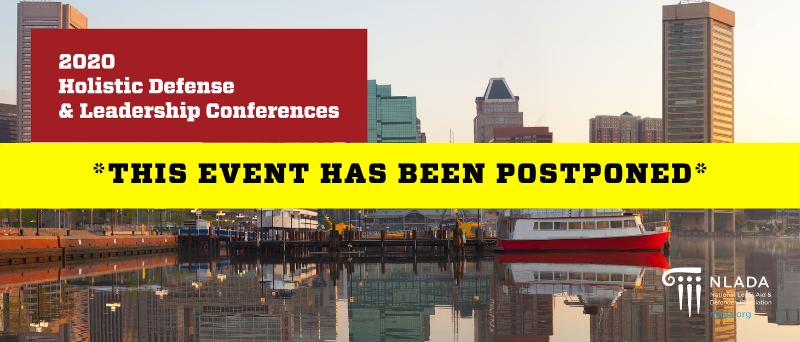 Monday, June 01, 2020 1:00 pm

to

Friday, June 05, 2020 4:00 pm
The Holistic Defense and Leadership Conferences bring together defenders, social workers and community activists for training, networking and strategizing. You may register for one, two or all three of the following events:
The American Council of Chief Defenders (ACCD) Summer Conference allows chief public defenders to engage in discussions about new issues facing public defenders across the nation and exchange ideas on effective approaches to public defense leadership

The Community-Oriented Defender (COD) Network Annual Conference is a networking and training opportunity for community-oriented defenders, exploring community-based, holistic defense programs and national advocacy.

The Black Public Defenders Association (BPDA) Conference provides Black public defenders who identify with and are committed to the populations they serve an opportunity to train, dialogue, and network with each other.
---
In light of the COVID-19 Pandemic, the planning committee has decided not to convene the 2020 Holistic Defense & Leadership Conferences on June 1-5 in Baltimore, Maryland.
The 2020 HDLC planning committee is currently exploring other options to bring our community together, including holding virtual events and possibly moving parts of the conference to our 2020 Annual Conference that will occur in November. We wanted to communicate this update with you as soon as possible. We will continue to keep you updated as the situation develops.
However, please continue to send in your proposals for conference sessions. This will help us prioritize your needs and provide valuable training whenever and however we do come together. You may send in your proposals here.
Stay up to date with information regarding this conference by follwing us on social media on Facebook and Twitter or refering to the HDLC Conference Homepage.
Registration    Travel and Accommodations  Featured Speakers  Conference Homepage