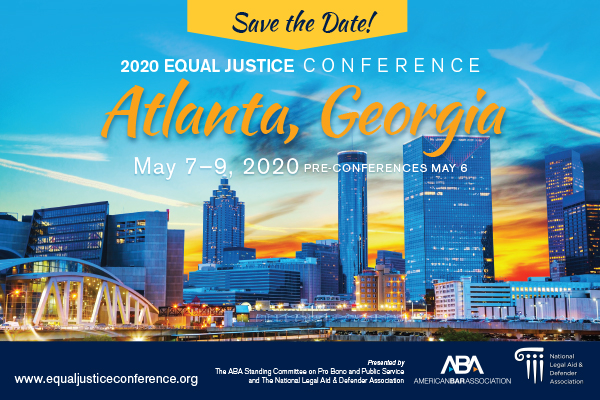 Thursday, May 07, 2020 8:30 am

to

Saturday, May 09, 2020 4:30 pm
The Equal Justice Conference brings together all components of the legal community to discuss equal justice issues as they relate to the delivery of legal services to the poor and low-income individuals in need of legal assistance. 
The 2020 Equal Justice Conference Planning Committee wants to hear from you!
We are seeking skilled and passionate advocates to lead workshops at this year's conference. With the certainty of presenting on a national stage and the potential to exponentially increase your organization's ability to advocate for equal access to justice, there are no downsides to leading a workshop at the Equal Justice Conference. We invite you to submit your session proposal for the conference.
CLICK HERE to watch the video from 2019 for details on how to submit:
2019 Equal Justice Conference Highlights
Last year's EJC was a great success! Approximately 1,100 attendees had the opportunity to expand their leadership abilities, network with colleagues, and visit old friends. Along with informative sessions and plenaries, attendees were also able to explore many of Louisville's great attractions including an inspiring visit to the Muhammad Ali Center. We look forward to seeing you in Atlanta this year!
See what we did at last year's conference: